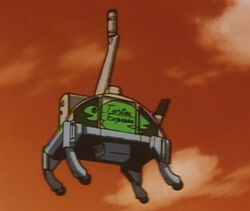 Turtle Express was a delivery company that operated across the Solar System. It used drones in order to deliver packages to people.
Turtle Express had one peculiar package which was perpetually forwarded in the 21st century, to be paid on delivery. It eventually landed on the Bebop in 2071 and the COD was paid by Jet Black.[1]
Background
There was another drone with the name "Rabbit Express", which is likely a reference to the folk tale.
Gallery
References