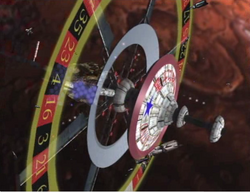 Spiders From Mars was a casino ship orbiting Mars and was owned by Gordon. The ship had a large orbiting ring with several restaurants, silent pictures, slot machines, poker, keno, roulette and mahjong.
The casino was visited by the Three Old Men, Spike Spiegel and Jet Black. While they were there, Spike met Faye Valentine, who was a blackjack dealer there briefly to fulfill a deal for Gordon. She mistook Spike for an agent, and they got into a conflict that resulted in them being pursued by the casino's security. Faye flew her ship, the Red Tail, out of the casino, with Jet and Spike hanging on the ship.[1]
Background
The name is seen on playing cards and cigarette disposal units. The initials "SFM" are seen on the poker chip. The name seen on the elevator screen as Spike and Jet descend to the casino floor, however, is spelled "Spaiders From Mars."
Other store names are also seen including the Golden Nugget.
Trivia
The Casino in the show got its name because of David Bowie's concept album The Rise and Fall of Ziggy Stardust and the Spiders from Mars (often shortened to Ziggy Stardust). Bowie's personal creation and titular alter ego Ziggy Stardust - a fictional androgynous bisexual rock star who acts as a messenger for extraterrestrial beings - had a backing band called the Spiders from Mars.
Gallery
References
Community content is available under
CC-BY-SA
unless otherwise noted.